03/21/2023 12:07 a.m.
https://cablematic.com/en/products/a4-240x325mm-aluminum-frame-with-stand-for-advertising-posters-or-advertisements-LX080/
A4 240x325mm aluminum frame with stand for advertising posters or advertisements
Specifications
Aluminum frame 240 x 325 x 12 mm, designed for menus, signs, posters and advertisements in A4 format.
The frame bar is adjustable. Maximum height 130 cm and minimum of 85 cm.
Rotating silver frame, can be turned 360º on itself and 180º inclined. The side profiles open and close, to be able to replace the contents of the frame quickly and easily.
It incorporates a transparent front PVC sheet resistant to UV rays, which protects the document inserted inside the frame, being protected from stains or fingerprints.
It includes a base with a base and an extendable vertical stainless steel tube. The base can be filled with water or sand to keep the base firm and stable
Watch video
More info
PVP
€44.75
Price including VAT: €44.75
2 years
warranty
14 days
returns
100%
safe
More info
Specifications
Aluminum frame 240 x 325 x 12 mm, designed for menus, signs, posters and advertisements in A4 format.
The frame bar is adjustable. Maximum height 130 cm and minimum of 85 cm.
Rotating silver frame, can be turned 360º on itself and 180º inclined. The side profiles open and close, to be able to replace the contents of the frame quickly and easily.
It incorporates a transparent front PVC sheet resistant to UV rays, which protects the document inserted inside the frame, being protected from stains or fingerprints.
It includes a base with a base and an extendable vertical stainless steel tube. The base can be filled with water or sand to keep the base firm and stable
More info
Poster for the installation of photos, advertisements, posters, menus, price lists, posters and ultimately all kinds of posters. Aluminum frame with straight corners. The installation is very simple, since the side aluminum profiles open, just remove the transparent sheet, put the poster on and put the transparent sheet back to close the side profiles again.
specs
Aluminum frame 240 x 325 x 12 mm, designed for menus, signs, posters and advertisements in A4 format.
The frame bar is adjustable. Maximum height 130 cm and minimum of 85 cm.
Rotating silver frame, can be turned 360º on itself and 180º inclined. The side profiles open and close, to be able to replace the contents of the frame quickly and easily.
It incorporates a transparent front PVC sheet resistant to UV rays, which protects the document inserted inside the frame, being protected from stains or fingerprints.
It includes a base with a base and an extendable vertical stainless steel tube. The base can be filled with water or sand to keep the base firm and stable
Ideal for displaying advertising posters, restaurant menus, schedules, information about your business, shopping centers, receptions, etc.
25cm diameter rubber lined and protected base
Gross Weight: 2.6 kg
Product size (width x depth x height): 25.0 x 25.0 x 130.0 cm
Number of packages: 1
Packages size: 69.0 x 28.0 x 6.0 cm
Master-pack: 1
Watch video
Minijack 3.5
PVC (Polyvinyl chloride)
Paper format
Minijack 3.5
The minijack 3.5mm is a popular connector used primarily for headphones although its functionality is much more varied.

It consists of a maximum of three connecting parts being the largest so-called mass or negative polarity and two of smaller size and located farther end of the connector, called living or positive that correspond to each channel, such three-part plug can transmit signals in two different channels, also known as stereo signals. It also exists in a mono minijack but version composed of only two parts, a body and a living or positive.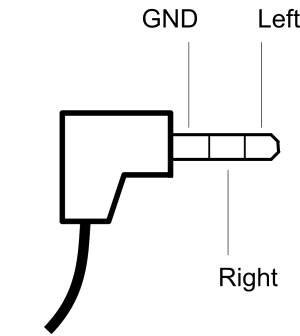 Do you have any question about this product?