08/09/2022 3:36 p.m.
https://cablematic.com/en/products/floor-grommet-for-mobirack-white-RB101/
Floor grommet for Mobirack White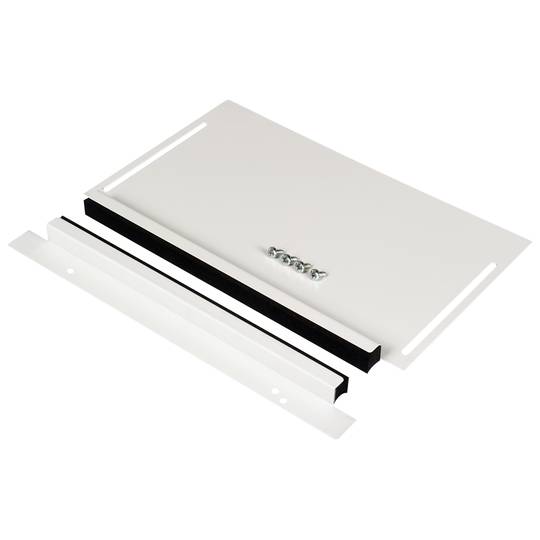 NEW
Specifications
Cable glands for installation on the floor of the Mobirack brand Rack cabinets
Designed to facilitate the passage and placement of rack wiring
Painted in white RAL 7035.
Fully adjustable thanks to its design to open or close more the passage of the cables
Dimensions of 35 x 40 x 2 cm
Go to technical terms
PVP
€19.90
Price including VAT: €19.90
2 years
warranty
14 days
returns
Go to technical terms
Specifications
Cable glands for installation on the floor of the Mobirack brand Rack cabinets
Designed to facilitate the passage and placement of rack wiring
Painted in white RAL 7035.
Fully adjustable thanks to its design to open or close more the passage of the cables
Dimensions of 35 x 40 x 2 cm
Keywords
Did not find what you were looking for? These topic could help you
Cable gland panel designed to pass the cables in the floor entrances of the cabinets of the Mobirack range and also prevent dirt from entering that area. Sliding cable entry panel, with rubber edge mechanism that allows cables to pass but at the same time, with its rubber, it covers most of the unused space of the cable grommet itself.
specs
Cable glands for installation on the floor of the Mobirack brand Rack cabinets
Designed to facilitate the passage and placement of rack wiring
Painted in white RAL 7035.
Fully adjustable thanks to its design to open or close more the passage of the cables
Dimensions of 35 x 40 x 2 cm
Gross Weight: 940 g
Product size (width x depth x height): 35.0 x 40.0 x 2.0 cm
Number of packages: 1
Packages size: 40.0 x 25.5 x 3.0 cm
RACK 19
A rack is a metal support designed to house electronic, computer and communications equipment. The measures for the width are normalized to be compatible with most equipment manufacturers. They are also called racks, cabinets, cabinets or closets. Each column has holes at regular intervals called U rack units (Pictured: 4) grouped in threes. The height (Pictured:5) of the racks is standardized and external dimensions of 200 mm by 200 mm. Being normal that from 4U to 46/47U height width types (Pictured: 7). Standard 600 mm or 800 mm Types of background (Pictured: 6) The depth of the frame is not standardized, as this flexibility is granted (Pictured: 8) to the equipment. The most common are: - 450 mm - 600 mm - 800 mm - 900 mm - 1000 mm - 1200 mm Type 19-inch rack can find various types of 19-inch rack. Rack Mural (Pictured: 2): Used to accommodate electronic network. They are the smallest and are anchored to wall. Rack Pie (Pictured: 1): They are used primarily for servers, UPS and network electronics. Open Rack (Pictured: 3): Open Rack Racks are available only modelsstructure, eliminating doors and other accessories.